Mark Saunders siege police 'feared suicide by cop'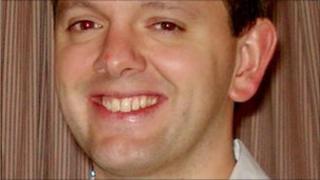 Police marksmen feared gun-wielding barrister Mark Saunders may have been preparing to commit "suicide by cop" in west London, an inquest has heard.
One officer said colleagues considered whether Mr Saunders, 32, wanted to be killed during the armed siege at his Chelsea home in 2008.
Mr Saunders died after police bullets were fired at the end of a five-hour stand-off.
The inquest heard police marksmen were carrying more than 100 guns.
Firearms officers monitored his movements and their response on police radio channel 75 before the fatal shots at 2132 BST, the inquest heard.
In court, coroner Dr Paul Knapman, said: "There is a rather inelegant expression from America known as 'suicide by cop'."
Dr Knapman asked Insp Nicholas Bennett, of the Metropolitan Police's CO19 unit, if any of the firearms officers, monitoring on channel 75, had asked: "Hang on, is he asking to be shot?"
Dr Knapman also asked if any of the officers said: "Watch it, he might just be enticing us."
"Did that come over from any of the officers who were watching?," he added.
The inspector replied: "No sir, not specifically. But it was a constant theme throughout the evening which was apparent."
Dr Knapman said: "We have touched on that. But it was not specifically said at that time, in the minutes before?"
Mr Bennett replied: "No sir."
'High risk'
Earlier, the court heard how highly-trained officers were equipped with an arsenal including high velocity rifles, 9mm Glock self-loading pistols, MP5 carbines, Tasers and CS gas.
A total of 59 officers were posted around the man's home after he blasted a shotgun through his kitchen window.
Westminster Coroner's Court heard that senior officers were keen the area should not be "bristling" with guns.
Nicholas Hilliard QC, for the coroner, asked: "If in this particular situation you can avoid the area bristling with firearms officers, is that something you try to do, if it can be done?"
Mr Bennett replied: "I certainly would not have any more firearms officers there than I thought were necessary."
Mr Bennett said Mr Saunders was "never less than high risk" and police were preparing for a long operation.
Asked if the large number of officers was a "surprise", Mr Bennett replied: "At that time we were planning for a protracted incident.
"Although it was apparent there were a great deal of firearms officers there, a great deal were not proactively employed in the operation, but are providing contingencies."
Mr Saunders, a successful family law specialist, died after police bullets were fired at the end of a five-hour stand-off.
Armed with two shotguns and a large amount of ammunition, he threatened to kill himself and fired several rounds as police told him to give himself up.
Mr Bennett, a firearms tactical advisor, said the chosen tactic of "contain and negotiate" was the least intrusive given the threat Mr Saunders posed.
Tasers could not be used because of their short range, some six metres, and shooting Mr Saunders with a plastic bullet from a baton gun was not appropriate, he added.
'Potential hostage'
He said such an "exceptionally high-risk strategy" could cause Mr Saunders to collapse out of sight, forcing police to enter the building and putting their lives in more danger.
He said he spoke to Mr Saunders' widow, Elizabeth, in the street but did not consider it was his responsibility to decide if she could be used to negotiate.
"We may have been delivering a potential hostage into a situation where we did not have a hostage," he said.
The officer rejected claims there was a "degree of confusion" over who was responsible for the firearms teams or that the "strange" command structure put unnecessary pressure on a colleague.
The officers maintain they were firing in self-defence, or to protect others. Mr Saunders' family say he presented no risk to the public.
The inquest continues.