Historic House Mill receives a heritage lottery grant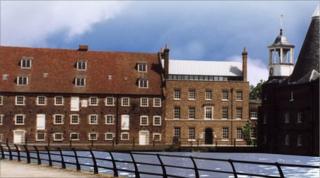 A project to restore an 18th Century mill in east London has received a £248,000 Heritage Lottery Fund grant.
Dating back to 1776, House Mill is said to be largest remaining tidal flour mill in the world and the oldest mill on Three Mills Island in Bow.
The project, which will also restore its neighbouring building Miller's House and create a visitor centre, is expected to take 18 months.
The grant has been awarded to the River Lea Tidal Mill Trust.
The Heritage Lottery Fund said it has been awarded an initial development grant of £248,000 but the trust has two years submit an application for a further £2.65m.
In medieval times the island - now a conservation area - was known as Three Mills and provided flour to the local bakers of Stratford-atte-Bow who supplied bread to the City of London.
The refurbished mill will create volunteer opportunities and offer workshops teaching traditional skills such as metal work, carpentry and hand milling.
The River Lea Tidal Mill Trust also aims to use hydro-electricity using the restored water-wheel and additional turbines
Sue Bowers, of the Heritage Lottery Fund (HLF), said: "We're extremely pleased to give initial support to the Restoring House Mill project.
"This very rare industrial treasure well deserves to be saved for future generations and transformed into a key heritage attraction for east London."
John Haggerty, chairman of the River Lea Tidal Mill Trust said: "It has taken a long time to get here.
"We have had many disappointments over the years but now, thanks to HLF, we can progress this project with focused and positive energy to enable us to give the people of east London a heritage building they can be proud of and to give London another attraction and show the world its largest surviving tidal mill."
The restoration project, run in conjunction with the Waterways Trust, forms part of a wider regeneration scheme for the Thames Gateway development area in line with the 2012 London Olympics.