Tower Hamlets in legal bid against 2012 marathon route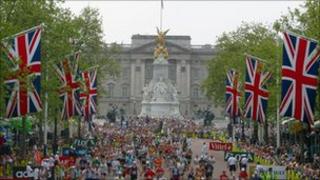 An east London council has begun legal proceedings against Olympic organisers calling for a judicial review into the decision to move the marathon route.
Tower Hamlets Council said it had taken the decision to seek a judicial review over the decision to move the route from the East End.
The council wants the 26-mile marathon to return to "its rightful home".
A London 2012 spokesman said moving the route was "a tough decision but the right decision".
The London Organising Committee of the Olympic and Paralympic Games (Locog) decided to move the finish line to The Mall from the Olympic Stadium in Stratford in September.
The new route passes Buckingham Palace, the Houses of Parliament, London Eye, Birdcage Walk, St Paul's Cathedral and Tower of London.
The Olympic marathon was originally due to start at Tower Bridge and run through Tower Hamlets and the East End, finishing in the Olympic Stadium.
'Showcasing east London'
Tower Hamlets mayor Lutfur Rahman said: "One of the core principles of the bid was the showcasing of east London, including Tower Hamlets.
"We feel that the re-routing of the marathon is just one of many examples of how Locog has reduced the borough's involvement through moving the walking race and the basketball out of the borough," he added.
The Games organisers cited "operational reasons", including security for the change and said the decision was "fair and legal".
A Locog spokesman said: "We recognise the disappointment in Tower Hamlets and will continue our efforts to talk to Tower Hamlets Council and develop a proposal which makes sure the borough benefits from London 2012.
"Although moving the finish of the marathon was a very tough decision for us to take, we believe it was the right decision, and the process we undertook was comprehensive, fair and legal."
Last week, following a three-day inspection by the International Olympic Committee, London 2012 chairman Lord Coe said: "I will not be changing my mind".