London fire chairman: 'Union leaders thick and nasty'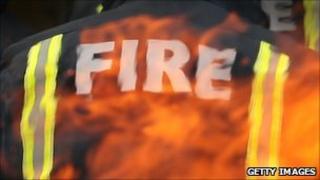 London Fire Authority's chairman has been quoted in a newspaper saying Fire Brigades Union (FBU) officials are "a thoroughly unpleasant and nasty lot".
"Most of them are thick, can't string a sentence together and, frankly, are incoherent," Brian Coleman said.
He has been involved in negotiations with the FBU over changes to staff rotas, which have led to two strikes.
Union president Mick Shaw said he would not join Mr Coleman "in the gutter, in some undignified trading of insults".
Mr Coleman stressed in an interview with the Ham and High newspaper that "the vast majority of firefighters were entirely, on a one-to-one level, decent and pleasant individuals".
But of most of the union officials, "if they had half a brain cell, they'd be dangerous".
'Petty insult'
The FBU has claimed fire crews will be sacked unless they sign up to new contracts, which outline new shift patterns.
A fresh proposal has been put forward by an independent arbiter and the union is to ballot its members to see if they accept it.
"We have to break the FBU, frankly, because they are not a union operating in the interests of their members and certainly not taxpayers as has been proved time and time again," said Mr Coleman in the interview.
Mr Shaw said: "We have to try and be professional in this, and not be distracted by this kind of petty insult.
"I think industrial relations in an emergency service like the fire service needs responsible people with cool heads, and that certainly isn't a description of Brian Coleman."
A spokesperson for Mayor Boris Johnson said Mr Coleman had "reassured the mayor that he regards ordinary firefighters as decent, pleasant and reasonable".
"His comments were directed at certain individuals in the FBU leadership who he believes have been abusive and intimidating in their conduct towards him."
When contacted by BBC London, Mr Coleman said he was unwilling to comment.
London Fire Brigade also declined to comment.