CCTV images released after attack in West End bar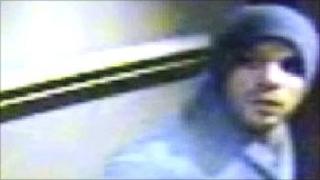 Police have released CCTV images of a man being sought over an attack on a woman in a bar in London's West End.
The woman, in her 20s, was followed into the ladies toilets in the bar in Upper St Martin's Lane, in Leicester Square, by a man on 25 November.
She was assaulted, leaving her unconscious. The man then left the bar and was last seen walking towards Leicester Square.
Metropolitan Police said the attack happened at about 1545 GMT.
The CCTV images show a man who is thought to be mixed race, light skinned, unshaven, wearing a blue beanie hat, a blue knitted jumper, dark jeans or trousers, white trainers and blue woollen gloves.
He also wore a white shirt underneath his jumper.
Serious injuries
The suspect is believed to have walked into the bar a few minutes before the incident and loitered by the toilets until the victim appeared.
He was not known to the woman, who was taken to a central London hospital for treatment and subsequently discharged.
Metropolitan Police Det Insp Simon Prankard said: "This was a violent attack on an unsuspecting young woman who was left with serious injuries.
"It would appear that this man has targeted the victim whilst she was on her own in a quieter part of the bar and there would have been little she could do to defend herself."