Damages paid over death at London hospital cancer trial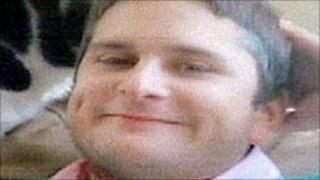 Damages of about £300,000 have been paid to the family of a man who died during a drugs trial at University College London Hospital (UCLH) in 2007.
Gary Foster, from Waltham Abbey, Essex, received twice the prescribed amount of chemotherapy for testicular cancer.
The 27-year-old suffered lung damage after a computer error in the set-up of the trial, which UCLH described as "an accidental healthcare event".
His family have reached a settlement with the UCLH NHS Trust.
The family's lawyer, Mark Bowman, issued a statement on their behalf about the "tragic" case.
There had been "a systemic failure in the setting up, running and monitoring" of the trial, he said.
"Mr Foster enrolled on the trial in the hope that it would improve his chances of successfully recovering from his testicular cancer.
"Due to the negligent treatment that he received, one of the very drugs that helped cure his cancer caused irreparable damage to his lungs and slowly killed him."
Mr Foster, who was a graphic designer, had originally been told he had a 60% likelihood of surviving the disease.
In 2008 his mother, Coleen, said it felt as if her son "was murdered".
UCLH said it wished to "extend its condolences" to Mr Foster's family.
"After his death UCLH co-operated fully with the coroner, who concluded that death occurred as a result of an accidental healthcare event and that following a full investigation the trust had taken measures to prevent any recurrence."