Guy's and St Thomas' Hospital fraud offence charges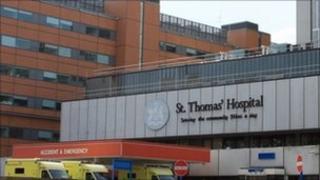 Fifteen people working at Guy's and St Thomas' Hospital have been charged with fraud and identity card offences.
Three appeared at Camberwell Green Magistrates' Court while 12 appeared at Tower Bridge Magistrates' Court. They are aged between 28 and 62.
Two others detained over the same allegations have been bailed. Three others were held over alleged immigration offences.
Contractor Reed employment agency said all checks had been carried out.
"We are now working with the hospital to fill the vacant positions while these investigations are being conducted," said a spokeswoman.
Other workers were employed directly by Guy's and St Thomas' NHS Foundation Trust.
A spokesman for the trust said the staff concerned "worked predominantly in housekeeping or as food assistants, the majority of them at St Thomas', and we have made alternative arrangements to cover their work.
"We are clearly disappointed that this problem has arisen as we pride ourselves on carrying out thorough immigration and employment checks on all our staff."
The workers were detained in a joint operation involving the Metropolitan Police, the UK Border Agency and the NHS Counter Fraud Service.