London councils spend £30m on refurbishments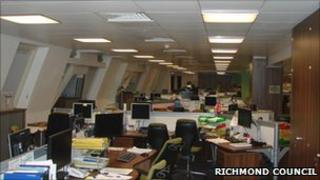 Councils in London have spent £29.8m refurbishing their offices over three years - including almost £500,000 upgrading toilets at one authority.
A BBC Freedom of Information request found Richmond Council spent the most, with a bill of £3.41m between 2008 and 2010.
Hounslow spent £2.9m, while Bromley spent £2.7m.
Lewisham, Enfield, Hillingdon, Barking and Dagenham, Islington, Ealing and Barnet councils were among the top 10 spenders.
Responding to the figures, Local Government Minister Bob Neill said the "age of vanity makeovers" was over.
"Whilst I recognise the need for councils to maintain their offices to a reasonable standard local authorities must exercise prudence," he said.
"The age of vanity makeovers and excess in local government is over.
"If councils cut out wasteful spending on refurbishments then they can protect frontline services."
Since 2008, councils have spent more than £29,845,200 on their town halls and civic centres.
Collectively, the councils also approved future refurbishment projects worth more than £2m, taking the total to £31,892,200.
Richmond Council, which expects to lose up to 300 jobs by 2014 following the government's spending review, said the refurbishment project began in 2005 and it was "not something entered into lightly or on a whim".
Toilet refurbishments figured prominently on several lists of work.
Enfield spent £491,320 on refurbishing toilets, Hounslow £414,000, Kingston £118,527, Hillingdon £75,000, while by contrast Southwark spent £10,000.
For Redbridge, leaking and overflowing bathrooms were a persistent problem with plumbers being called in 51 times in 2008 and 28 times in 2009.
Richmond Council spent £701,000 redoing the ground floor of its civic centre, £728,000 on the first floor and £1,981,000 on the second and third floors.
The council said it aimed to save £35m per annum by 2014.
Councillor Tony Arbour, cabinet member for performance, said: "This has enabled us to move out of office space in Regal House which the council was renting from a private landlord at cost of over £700,000 a year to the local taxpayer."
Hounslow Council spent £424,000 on a conference centre, £150,000 replacing carpets and £15,000 on the council leader's office.
A spokesman said the work "was and will remain absolutely necessary".
"There were not previously enough toilets in the building, coupled with the fact that existing facilities had not been refurbished in some 30 years," he said.
Bromley Council said its planned maintenance work was "higher than the norm because of programmed replacement of windows".
Reupholstering 'priority'
Barking and Dagenham spent more than £2m on refurbishing three floors, while Islington Council spent £1.4m on one assembly hall.
Merton spent £286,000 on furniture while Redbridge paid £85 for altering clocks from GMT to BST in 2009 - described as a maintenance cost.
Hillingdon Council spent £30,000 on reupholstering chairs in the council chambers. Members had identified the work as a "priority" as the poor condition of chairs was a "health and safety risk", the council said.
Hillingdon added it now hoped to reduce spending on future works by £180,000 as some plans had been postponed.
Charlotte Linacre, from the TaxPayers' Alliance, said: "It is appalling that London councils have spent millions of taxpayers' money on refurbishing their own buildings.
"What is even more disgraceful is that this spending was during a recession, when they were pleading poverty."
Bexley, Croydon and Newham councils said they did not spend any money on upgrading their offices.
But a previous BBC investigation found Newham Council spent £18.7m refurbishing its new back office.
Camden Council said it could not provide the required data as the BBC's request exceeded the cost limit.