Man admits London West End shop bomb hoax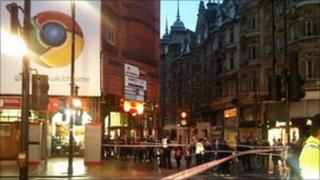 A man has pleaded guilty to threatening to blow himself up in a shop in London's West End.
Malcolm Tripp, 46, of no fixed address, was arrested following five-hour stand-off with police in Accessorize in Regent Street on Thursday.
Tripp admitted a charge of making a bomb hoax, when he appeared at City of Westminster Magistrates' Court.
He stacked several boxes at the window and one of them read "I have a nail bomb in a case", the court head.
Tripp, who was remanded in custody, will be sentenced at Southwark Crown Court at a later date, pending psychiatric reports.
A charge of criminal damage was withdrawn.
Prosecutor Rav Chodha said: "A police officer attended Accessorize in Regent Street, he saw the defendant inside the premises carrying a black briefcase.
"There were several boxes stacked on top of one another at the window."
On them was written "I have a bomb, I have a nail bomb in a case, Allah I have a bomb".
There was also a fluorescent advertising sign on which was written "I have a bomb".
More than 150 police officers were deployed to the incident which came to an end at about 0500 BST on Friday.
Tripp also spoke to a reporter, who managed to get through to the landline number of the shop.
He told the journalist he had gunpowder and nails in Smarties tubes and said he was "fed-up, had had enough and could not take any more", the court heard.