London firefighters union endorses new shift patterns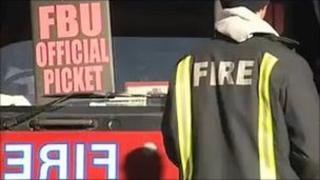 The Fire Brigades Union has endorsed new shift patterns for its members, bringing a resolution to its dispute with London Fire Brigade (LFB) closer.
About 5,500 firefighters went on strike in 2010 over plans to change shift lengths and sack those staff who did not agree to them.
The FBU has backed moving to 10.5-hour day shifts and 13.5-hour nights instead of nine-hour days and 15-hour nights.
The union said some "loose ends" still needed to be tied up.
'Vital training' time
London Fire Authority chairman Brian Coleman said he was "flabbergasted" at the union's decision not to end the dispute immediately.
Mr Leahair, the union's executive member for London, said: "We are glad that we are within touching distance of resolving this industrial dispute.
"The agreement provides for new working patterns which are more amenable to our members than the brigade's original proposals.
"We will now concentrate on tying up the loose ends, and formally bringing the dispute to an end."
Ron Dobson, London Fire Commissioner, said the agreement by the union was "welcome news".
"Unfortunately they've also told us that despite reaching a collective agreement the trade dispute remains in being.
"I'd hoped agreement would mean an official end to the dispute, and to arrange for the 27 fire appliances that have been on standby to be returned to the fire stations."
Mr Coleman added: "I'm flabbergasted by the position the FBU have taken and had hoped to put a final end to the dispute today."
Firefighters across London went on two eight-hour strikes last October and came close to a walk-out on Bonfire Night in November.
LFB had been granted a High Court injunction so that contract firefighters could work unhindered.
It had wanted to shorten the night shifts saying it would make time for "vital training and fire prevention work" for crews.
LFB said the 27 appliances removed from service during the two strikes in October would only be returned when the dispute formally ended.