Presenter to cross Atlantic Ocean by raft for WaterAid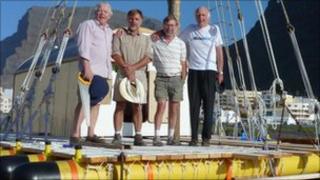 A former Tomorrow's World presenter from London is to sail across the Atlantic on a raft made of water and gas pipes.
Anthony Smith, 84, wants to highlight the fact that a billion people worldwide live without clean water.
His team hope the 70-day, 2,800-mile (4,596km) voyage will raise £50,000 for the charity WaterAid.
Mr Smith was a science correspondent and presenter on the BBC programme, which was axed in 2003 after 40 years.
He recruited his crew of "mature and intrepid gentlemen" by placing an advert in the Daily Telegraph newspaper.
It read: "Fancy rafting across the Atlantic? Famous traveller requires 3 crew.
"Must be OAP. Serious adventurers only."
Mr Smith said: "Water strikes at the very heart of need.
"To voyage almost 3,000 miles upon the salty kind will make us intensely aware of places in the world that are without adequate supplies."
The team, who set off on Sunday, will collect rainwater to drink during their adventure.
Their vessel, named the An-Tiki, was constructed out of 12m (39ft) lengths of pipe.