Assembly committee warns about sports before Olympics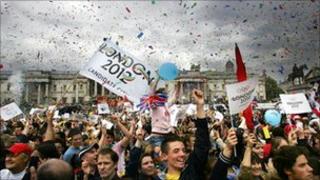 Getting more Londoners involved in sport before the Olympics is an "uphill struggle", the London Assembly's sports committee has said.
In a new report, it warned organisers to be "realistic" about the challenge they face in the run-up to the 2012 Games.
The committee said it was too soon to judge whether Mayor Boris Johnson's £15m Sports Fund had been effective.
The mayor's office said the money was helping to build a "fantastic legacy".
In its report, the Assembly's Economic Development, Culture, Sport and Tourism (EDCST) committee said the mayor's cash injection was "relatively little" given the scale of public spending cuts - but that it was potentially powerful in helping to plug gaps in provision.
'Exciting projects'
But the committee called on Mr Johnson to do more work to help grass-roots sports clubs link their projects with the Games.
Chairman Len Duvall said: "We'd all like to see more people involved in sports but we have to be realistic about the scale of the challenge.
"£15m is relatively little compared to the amount spent by national and local government, but it has the potential to give the mayor a say in the big decisions about sports provision."
A spokesman for Mr Johnson said the mayor was determined to help deliver a sporting legacy for London.
"Working with sporting organisations across London we are on course to build a fantastic legacy from the Games and are pleased the assembly recognises the progress we are making.
"Over £5m has already been awarded to 35 exciting sports projects across the capital, 1,500 Londoners are already training to become sports coaches and an extra 10,000 people a week will be getting active from the 12 sporting facilities funded by our programme to date."