London 2012 Olympics: Tube may run 24 hours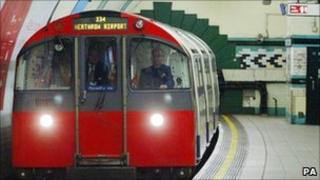 Underground bosses are considering running the Tube around the clock during the 2012 Olympics, it has been revealed.
Transport for London (TfL) has established a working party to plan staffing for the scheme.
The Games are expected to place extra strain on the Tube, which already handles three million passengers every day.
But unions say they expect a battle on overtime pay for night staff.
RMT general secretary Bob Crow said: "The hard fact is that there is no agreement with the unions in place for operating hours, volume of service, staffing levels or payments for next year's Olympics.
"Not only that, but the continued job cuts and attacks on maintenance schedules mean that the Tube is short of capacity and prone to regular breakdowns at the best of times, let alone when we've got another million people to shift around the city.
"The mayor can't keep London moving now, let alone for the Olympics in 2012."
But a TfL spokesman said: "We are on track to deliver all transport improvements well ahead of the Games and are confident of supporting a fantastic London 2012 Games and keeping London moving.
"We are now drawing up our detailed transport plans for the Games.
"However, no decisions have yet been taken about the Tube's hours of operation during 2012."
RMT remains locked in dispute with TfL over 800 planned ticket office job losses.
A series of strikes took place last year.