Arrests over London bus pram row mother attack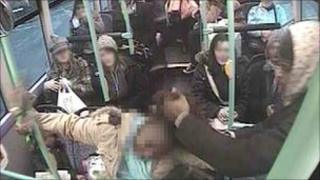 A man and a woman were arrested after a young mother's head was beaten against a metal bar on board a bus in a dispute over prams in north London.
The 23-year-old woman was on the 83 bus from Hendon Central to Ealing Hospital on 17 January when she was attacked.
The victim had tried to move her buggy on board the bus when a female spat at her. She complained and was attacked by a man.
The suspects, arrested on Monday, were bailed pending further inquiries.
The victim suffered a cut to the ear and bruising to the head.
A Metropolitan Police spokesman said the victim was attacked at 1620 GMT in Vivian Avenue after she had moved her own pram out of the way to enable the couple to get theirs into the pram bay.
When she tried to put her own pram back afterwards, the female suspect spat in the victim's face, he added.
He said the victim complained about this, at which point the male suspect attacked her, grabbed her hair and beat her head against a metal bar, before throwing her off the bus and knocking her to the ground.
The attack happened in front of the victim's young daughter on a crowded bus on the lower deck.
Update: This report has been amended to clarify that a man and a woman were arrested.