London Fire Brigade 'can save £2m by cutting overtime'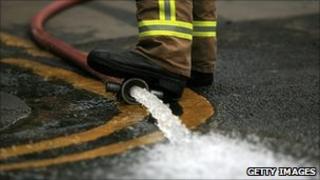 London Fire Brigade says it is going to save £2m over the next five years by axing "unnecessary" overtime.
A London Fire and Emergency Planning Authority report said the brigade could cut "pre-arranged" overtime by £400,000 annually.
Authors said this could be achieved by closer analysis of how it arranges cover for staff at fire stations.
The Fire Brigades Union said overtime was being used to "mask" a shortfall of 150 firefighters below strength.
London's Fire and Emergency Planning Authority chairman Brian Coleman commissioned the study after last year's firefighter strikes, which led to the brigade removing 27 contingency appliances.
He said: "Taxpayers expect a world-class service from the London Fire Brigade but they also expect their money to be spent wisely.
'Play acting'
"As a result of last year's industrial action, we've learned that by scrutinising more closely what staff we need, where and when, we can keep London just as safe but at less cost."
Mr Coleman continued: "Last year, the brigade had to cope with strike action that included two eight-hour walkouts and months where firefighters worked to rule.
"This forced us to do things differently.
"If, as a result of industrial action, we have identified ways to make savings in how we work without affecting the service we provide, we have a duty to change."
But FBU spokesman Ian Lehair claimed the report was "play acting".
He said: "It's not firefighters or their union who want overtime - it's the London Fire Brigade, to mask the fact that they are about 150 firefighters under strength.
"The brigade is using overtime to mask shortages."