Rugby-tackled rapist Paul Reid is jailed for life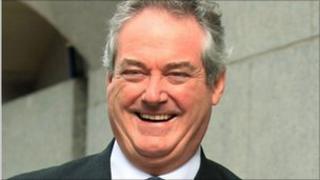 A rapist who was rugby-tackled by a judge to stop him fleeing from court has been jailed for life at the Old Bailey.
On Wednesday, Paul Reid, 34, changed his plea to guilty rather than face Judge Douglas Marks Moore in court.
Reid was sentenced to a minimum term of six years and three months by Judge Jeremy Roberts for two counts of rape and two escape offences.
Judge Roberts went on to praise his fellow judge's brave actions.
"The public would wish me to express their appreciation of his extremely brave and public-spirited action, going well beyond the call of duty in preventing the escape of an extremely dangerous man," Judge Roberts said.
'Serial escaper'
He revealed that Judge Marks Moore, 60, hurt his shoulder after twice wrestling with Reid as he tried to flee his court where he was trying him for the rape offences.
Judge Roberts said he considered Reid to be extremely dangerous and unlikely to be released for some time.
Judge Marks Moore, a former Irish Guardsman, pinned Reid down with his body until security guards arrived at Woolwich Crown Court in August 2010, the court heard.
Reid was later convicted of the rape offences against a young woman, committed when he was on the run after escaping Inner London Crown Court two years earlier.
He had also escaped twice from the dock at Snaresbrook Crown Court in 2001 and was described in court as a "serial escaper".