Londoners can report 'grime-crime' by mobile and online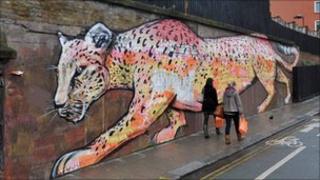 A system allowing people to report graffiti and litter using mobile phones and websites will help tackle 'grime-crime', said Mayor Boris Johnson.
People can upload photos to an online map or send texts of problem areas and they will also be able to track the action taken on their report.
The scheme, already in use in Lewisham, was rolled out in Richmond, Greenwich, Sutton, Croydon, Merton and Haringey.
The smart technology will deliver "genuine savings", Mr Johnson said.
The concept and technology behind the scheme - named Love Clean London - has been developed by Lewisham Council in the past five years.
Texts and pictures can be posted to an online interactive map of the capital which will be accessible to participating councils, which will receive email alerts about the reports through a GPS signal.
'Cost-effective system'
To upload pictures and access the map, mobile phones users will need to download a free application.
Launching the scheme in Richmond Mr Johnson urged the other boroughs to sign up ahead of the 2012 Olympics.
He said: "Love Clean London gives people an easy way to report a discarded mattress or an outbreak of graffiti, helping their boroughs to direct finite resources where they are most needed.
"In tough financial times, this smart use of technology can deliver genuine savings whilst encouraging people to take an active pride in their local environment."
Lewisham council said since the system went live its spending on street cleansing has been held at 2003-04 levels, complaints about graffiti fell by 30%, and there had been an 87% drop in the time taken to respond.
The web portal also removes the need to set up a separate IT system, it added.
Councillor Susan Wise, Lewisham's cabinet member for customer services, said: "Encouraging Londoners to get involved and report the problems they see not only helps improve the areas in which they live but by using this state of the art, easy to use technology it's a cost effective way of helping to create cleaner, greener places."