London Oyster cards: Call for 'fairer' deal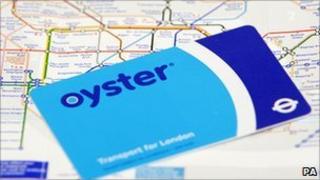 A transport watchdog has called for a fairer deal for London's Oyster card users as a rail summit is held.
London TravelWatch wants more to be done to stop passengers being charged a maximum fare on Oyster cards if they have problems touching in or out.
At the summit, it was announced that from May Oyster users heading for the edges of the capital would no longer need to get an Oyster Extension Permit.
The permits were introduced by train companies in January 2010.
Overcharged by £60m
London Travelwatch said Friday's rail summit between mayor Boris Johnson and rail firms serving Greater London provided a golden opportunity to put passengers first.
London Mayor Boris Johnson said: "For anyone heading to outer London the extension permits were utterly baffling.
"I'm delighted they will no longer be required and today we have set out even more ways of working in tandem with the train companies to improve services for Londoners."
In January figures obtained by Liberal Democrats on the London Assembly showed mistakes at ticket gates had resulted in Oyster card users being overcharged by £60m last year.
And in August BBC London revealed TfL had refunded £40,000 in eight months to customers who had been overcharged by faulty machines when topping up their Oyster cards.
'Investigation needed'
London TravelWatch also urged the mayor to consider extending Oyster to places such as Dartford, Epsom, Esher, Waltham Cross, Cheshunt and Slough and Windsor.
Sharon Grant, of London TravelWatch, said: "We're delighted that the mayor is meeting the rail industry face to face but there are problems we want them to address, not least about Oyster.
"We know that overcharging on Oysters - especially at rail stations - is a huge problem, involving a significant sum of money and it must be investigated without delay."
Other changes announced at the summit included a "new, clearer" combined rail and Transport for London Oyster map.