Brick Lane's curry houses in touting crackdown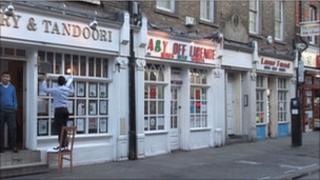 A number of curry houses on east London's Brick Lane have had their operating licences suspended in an effort to stop illegal touting.
Tower Hamlets Council wants to clean up the image of the area in time for the 2012 Olympics.
The council said it had received complaints from residents who said they were being harassed by touts.
Mohammed Yasin from the Bengal Village Restaurant said they were just trying to let people know about offers.
'Intimidate visitors'
"Customers don't like it if it's quiet, they like to come into busy restaurants, now we're not allowed to call them and give them the offers that we used to," he added.
Azmal Hussain owns four restaurants on Brick Lane and has had his licence suspended for touting but says it was time for a change.
"Some people are afraid to come to Brick Lane because of the touting, it is better to have a no touting law," he added.
Four restaurants have had their licences suspended and a further five have had anti-touting conditions imposed.
A council spokesman said breaching these conditions could result in a fine of up to £20,000 or six months imprisonment.
Touting has been illegal in the borough since 2008.
Mayor of Tower Hamlets Lutfur Rahman said curry touts were a "real nuisance".
"Brick Lane is world-famous and an asset to the borough, and I'm adamant that touts won't be allowed to spoil it for either residents or visitors," he added.
"Curry touts hassle and intimidate visitors, and we have taken decisive action to stop them."
Cinnamon, Preem and Prithi, Nazrul and Mango restaurants have all received suspensions.
Preem Restaurant and Balti House, Preem, Chillis, The Monsoon and Papadums restaurants have had touting conditions imposed.