Victorian baths in south London get a modern makeover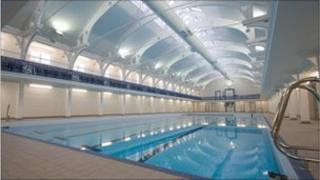 Public baths dating back to 1891 have been reopened in south London following the first stage of a £4.7m restoration.
Camberwell Baths has reopened its doors after a four-year campaign to save the Grade II listed building.
The Victorian building on Artichoke Place now boasts a newly refurbished 25m pool and small learner pool.
Camberwell Bath Campaign said there was still £1.09m left to raise to build a sports hall but a gym and youth centre were set to open in the summer.
Dr Ian Dungavell, director of the Victorian Society, said it was a "victory for local campaigners".
"The threat of closure has hung over this pool for many years but pressure from the Camberwell Baths Campaign and then a commitment from Southwark Council mean the pool now has a future," he added.
The Victorian Society said there were more than 50 listed Victorian and Edwardian pools in the country but only 14 remained in use.
Councillor Lewis Robinson, who is responsible for Southwark's leisure facilities, said the baths provided a "real Olympic legacy".
"Two years ago no-one at the Town Hall believed that Camberwell Baths could be saved," he added.