Libyan embassy rooftop protest: Four arrests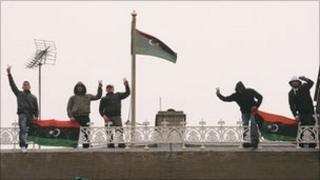 Four men have been arrested after protesters scaled the Libyan embassy in central London and staged a rooftop demo for 37 hours.
Five men climbed on to the roof and removed Col Muammar Gaddafi's green flag - replacing it with a pre-Gaddafi era flag used by Libyan rebels.
Police said four protesters had climbed down at about 1600 GMT on Thursday and were arrested on suspicion of trespass.
A fifth man was arrested after climbing down on Wednesday night.
Two other men, 25 and 26, were arrested on Wednesday morning as they tried to join the group on the roof.
The men, who were arrested on suspicion of attempted trespass on diplomatic premises, were bailed until June.
The incident comes after what began in February as peaceful protests in Libya against Col Gaddafi's 42-year-long rule, turned into fierce clashes between opposition groups and the regime's troops.
Earlier this month a group calling itself "Topple The Tyrants" occupied a £10.9m home belonging to Col Gaddafi in Hampstead Garden Suburb in north London.
In February during protests in London against the crackdown on rebels by the Libyan regime, a protester entered the embassy building and replaced the Libyan flag.