TV dentist Surinder Hundle suspended for patient affair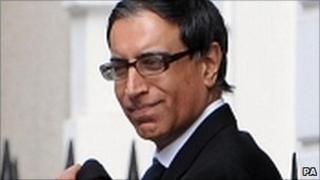 A celebrity dentist who had an affair with a patient but denied having sex in his clinic in London has been suspended for "a serious breach of standards".
Surinder Hundle, seen in TV makeover show Ten Years Younger, began seeing the woman when she was sympathetic about the death of his twins.
His failure to stop treating her was a breach of professional standards, a General Dental Council panel ruled.
Dr Hundle has the right to appeal against the three-month ban.
The couple saw each other for 18 months in 2007 and 2008, while the woman - known as Patient A - remained registered at Dr Hundle's clinic.
His wife, whom he has now divorced, gave birth to two children prematurely in 2005 but they did not survive.
Patient A texted him to say she would "always be there for support" and the relationship started.
'Isolated' case
Dr Hundle, 44, accepted his behaviour was inappropriate but not that it was an abuse of his professional role.
He said in hindsight, he "wasn't thinking".
The panel found Dr Hundle's conduct was "inappropriate, unprofessional and an abuse of your position".
Although it accepted the relationship was an "isolated" case, it found Dr Hundle's fitness to practise was impaired.
"A firm declaration of professional standards is necessary to promote public confidence in you and the profession generally," it said.
It stressed there was "no criticism" of Dr Hundle's clinical practice, however, and said he was "previously of good character and devoted [his] life to dentistry".