Met 'ready' ahead of London TUC cuts rally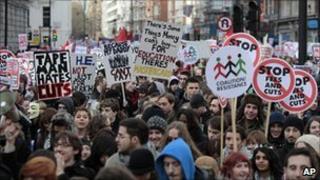 Scotland Yard has said it is confident it can deal with thousands of protesters due in London on Saturday for a rally.
New tactics are in place to tackle violence at this weekend's TUC rally in London against government cuts.
Assistant Commissioner Lynne Owens said a "containment manager" had been appointed to monitor the rally for any signs of disruption from troublemakers.
More than 100,000 people are expected to join the March for the Alternative.
The force's new form of "crowd containment" has not been trialled yet because the two previous protests for which it was in place were peaceful, the Metropolitan Police said.
The force was criticised for the way it managed student protests last year, particularly of holding demonstrators in a small area, known as "kettling".
Ms Owens, who is in charge of public order policing, said: "We are planning for peaceful protest, but the broader public expect us to be in a position to respond robustly to protect the safety of other people who might choose to be in London on that day and to protect our iconic sites.
"You would expect us to have planned for a whole range of eventualities, so therefore we have to plan for the eventuality that there may be violence."
She said there was early intelligence that some troublemakers could be seeking to disrupt the march.
Ms Owens said lessons had been learned from the student protests before Christmas, which saw protesters run through the streets and led to the attack on the royal car containing Prince Charles and the Duchess of Cornwall.
The force's containment manager will watch the route as soon as the protest starts and will have to decide, if there has to be a containment, where would be the safest place for it.
Extra officers
The containment manager will also have a team of officers working directly to them.
Officers will also be brought in from neighbouring forces to help the Metropolitan Police cope with the large-scale protests in central London.
TUC organisers plan to provide up to 2,500 stewards along the route, including up to 350 senior stewards, who will act as negotiators if there is any disruption.
The social media site Twitter has also been drafted in to improve communications both before and during the march.
A Twitter feed - @CO11MetPolice - will be used to send messages directly from the police operations centre to protesters on the ground.
Independent observers from the civil rights group Liberty will also be in the operations room to get an overall picture of the protest and its policing.
Organisers have said the march will include people affected by cuts, and show that many reject the government's argument that there is no alternative.
TUC organisers said they were planning to work with police commanders to deal with any possible incidents of violence.