Key witness 'lied' in ex-Met commander Ali Dizaei case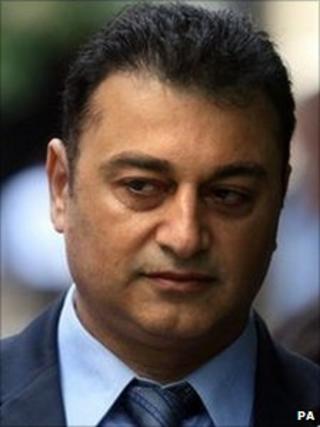 The key witness in the case against jailed Met Police officer Ali Dizaei is a benefit cheat who lied about fleeing persecution in Iraq, a court has heard.
Waad Al-Baghdadi was "pivotal" in the case against Dizaei who was jailed for four years, the High Court was told.
Yet new evidence shows Mr Al-Baghdadi, 25, told a "series of lies" during last year's trial, the court heard.
Dizaei is appealing against his convictions for misconduct and perverting the course of justice.
The lawyers of Dizaei, who was a Scotland Yard commander, say Mr Al-Baghdadi gave a false identity under oath in court.
Dizaei was found guilty in February 2010 of attempting to frame Mr Al-Baghdadi when they fell out over money.
Southwark Crown Court had heard the officer threatened, assaulted, falsely arrested and faked evidence against Mr Al-Baghdadi in July 2008.
Michael Mansfield QC, representing Dizaei, told the Court of Appeal in London that Mr Al-Baghdadi was a liar and his evidence could not be trusted.
'Wall of deceit'
The court heard before coming from Iran to the UK in 2003, Mr Al-Baghdadi's family devised a plan to pretend they were fleeing from persecution in Iraq.
Mr Al-Baghdadi followed his mother some time after she was granted indefinite leave to remain in the country, the court heard.
Mr Mansfield said he accepted he would "get in under the umbrella of his mother's subterfuge and deceit" by claiming he was from Iraq and saying he was two years younger than his real age so he could be classed as a dependant.
He also claimed a woman who was his sister-in-law was his sister, the court heard.
"These are all bricks in a wall of deceit erected before they leave," Mr Mansfield said.
"It isn't a haphazard arrangement. These are planned lies."
'Living off the state'
The court heard it has also emerged Mr Al-Baghdadi was arrested on suspicion of benefit fraud.
Mr Al-Baghdadi received pension credit on behalf of his dead father worth at least £18,000, carer's allowance of £1,748, plus attendance allowance and a social fund loan that he was not not entitled to, the High Court was told.
He is understood to deny allegations he falsely claimed benefits.
Police confirmed Mr Al-Baghdadi was arrested on 6 March and had been bailed until 6 May. No charges have been brought against him.
Mr Al-Baghdadi' benefits claims revealed a "pattern of persistent and elaborate deceit", Mr Mansfield told the court
"This is a man who is basically living off the state year in, year out, dishonestly," Mr Mansfield said:
Lord Justice Hughes, one of the appeal court judges, said evidence that Mr Al-Baghdadi had cheated the benefits system was a "clear, prima facie case of dishonesty.... that he is a fraudsman".
During Dizaei's trial, Mr Al-Baghdadi told a "series of lies about himself", falsely claiming he was born and raised in Iraq and failing to reveal under repeated questioning that his father was in fact dead, the court heard.
He also lied about a "dodgy" bank card from the Halifax which tied him to the alleged benefit fraud, Mr Mansfield said.
Mr Al-Baghdadi "dumped" the bank card at the restaurant because he knew there was a possibility he would be arrested, the court was told.
The appeal case continues.