Jessie Wright 'strangled by obsessed friend'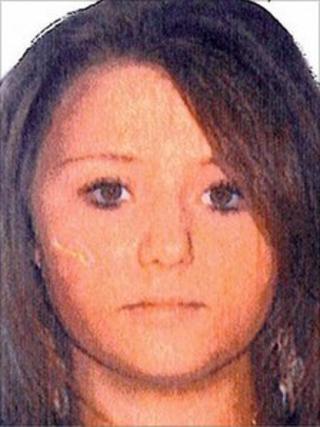 A teenage girl was raped and strangled by an obsessed friend who had learning difficulties, the Old Bailey has heard.
Jessie Wright's body was dumped in an "out-of-the-way place" behind the north London flats where her killer lived, jurors were told.
Zakk Sackett, 20, who lived at the time with his grandmother at Outram Place, Islington, denies murdering 16-year-old Jessie in March 2010.
The court was told that he and Jessie used to "hang out together".
Jessie's best friend Chelsea Strutton, 18, told the jury: "He was obsessed and she didn't want to know."
Dorian Lovell-Pank QC, prosecuting, said: "Jessie Wright was killed by this defendant in the course of being raped by him."
Mr Lovell-Pank said: "The young woman died from what pathologists will describe as compression of the neck.
"After he had killed her, the defendant Zakk Sackett dumped her body in an out-of-the-way place behind the flats where he lived."
'High-pitched scream'
A DNA swab taken from the victim was found to be an incomplete match with Mr Sackett, jurors heard.
Jessie had spent the day before she was killed shopping with Miss Strutton and visiting her uncle and aunt.
Later that night a resident near Mr Sackett's flat heard a man and a woman swearing at each other with raised voices, before the woman "let out a high-pitched scream" and it then "all went quiet", said Mr Lovell-Pank.
In the early hours of the morning, Mr Sackett took Jessie's mobile phone to a pawn shop and sold it for £15, jurors were told.
The following afternoon, her body was discovered and items of her clothing were also found in the area.
'Vulnerable defendant'
Jessie was probably killed in a parking bay before her body was moved upstairs and on to a walkway of the flats and then dragged over the wall at the end, jurors heard.
The court heard that Jessie and her boyfriend Alex, from Leyton, east London, had been together for about five months.
Talking about Mr Sackett and Jessie, Mr Lovell-Pank said: "They would hang out together around the area where they both lived but they were not and they never have been boyfriend and girlfriend."
The prosecutor told the jury there was evidence of phone calls between the two on the night Jessie died, as well as CCTV, forensic and scientific evidence.
Mr Sackett was obscured from view to the public as jurors were told he was a vulnerable defendant.
Judge Timothy Pontius explained the screens were to allay concerns he had expressed about sitting in full view of the public gallery.