Royal Free Hospital tests for face and hand transplant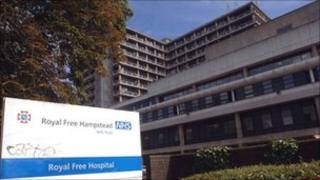 The Royal Free Hampstead Hospital is examining patients for the UK's first face and hand transplant but it is yet to set a date for the operation.
Prof Peter Butler, director of surgery and trauma at the London hospital, said his team had seen several people with combined face and hand injuries.
But the hospital has yet to find a donor match, making it "very difficult to set a timescale".
The procedure has been performed only once before, in France.
Prof Butler spoke about the prospect of carrying out such an operation in London after a full face transplant was carried out in the US on Monday.
Fewer than 10 double hand transplants and a similar number face transplants have been performed worldwide, but the combined surgery has only been carried out once, in France.
The recipient died from a heart attack months later.
Prof Butler, who heads the UK Facial Transplantation Research Team, said he received the go-ahead for the operation in 2006.
'Unique matching requirements'
The patients currently being subjected to rigorous psychological testing include burns victims, those involved in explosions and people with serious infections.
Prof Butler said: "We have a number of patients that we have seen with combined face and hand injuries and a number are potentially going to be done."
He said there had been several offers from potential donors but no match had been found for patients needing a face transplant.
"A combined hand and face transplant adds some complexity to the surgery but has benefits for the patient in that it gives them extra functionality.
"It's not immunologically different or psychologically different (to carrying out a face transplant only).
"Every patient going through the process has unique matching requirements so if a patient with a face and hand requirement matched the donor then that patient would be done," he explained.
Prof Butler said the operation could only take place once an exact match had been found.