Harley Street breast operation doctor denies cover up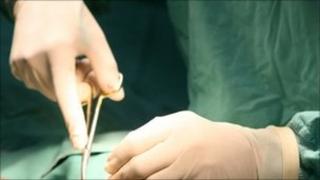 A Harley Street doctor has denied a cover-up attempt after a woman was burned in breast enlargement surgery.
Dr Christina Brunner is facing a the General Medical Council (GMC) panel after a woman, 24, had a "superficial" burn to her right breast in 2008.
After the operation she allegedly did not tell the patient what happened and told nurses she would say the burn was caused by an allergic reaction.
Dr Brunner says she was acting to protect the patient from stress.
The operation, at the London Welbeck Hospital for the Harley Medical Group, went wrong when heat from medical equipment caused surgical drapes protecting the patient to catch fire.
She was left with a burn the size of a 50p piece.
It is alleged that after the operation Dr Brunner ordered nurses not to make any statements or complete any incident forms, as normal medical procedures dictate.
Medical staff then advised Dr Brunner to tell the truth and that, "honesty is the best policy," the panel heard.
But Dr Brunner, a German national appearing by videolink, said her statement to nurses was a fleeting thought to protect the patient from shock when she came to.
She said: "I was considering in the first second if she has no burn, then I will probably not tell her, if there is no burn.
"I think if you come as a young girl to a clinic to go for cosmetic surgery and then you hear about a fire in the theatre, this is absolutely traumatic.
"If there was no sign of a burn, I was considering, for five minutes, five seconds, not to tell her."
'Under shock'
Dr Brunner continued: "It is nothing to do to hide or mislead.
"It was never the question to hide the burn.
"You pick out a sentence and make it look wrong - I was under a shock situation."
The incident happened on Dr Brunner's first day of employment with the clinic.
She is accused of misconduct through alleged misleading and dishonest actions, liable to bring the medical profession into disrepute.
Dr Brunner denies all charges.