Derailed Wembley Park train disrupts Metropolitan line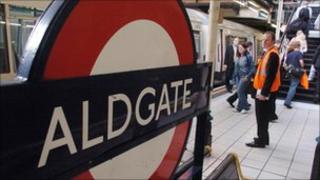 Hundreds of commuters faced severe delays travelling to central London after a derailed train disrupted services on a London Underground line.
Half of the Metropolitan Line was suspended for 25 minutes from 0550 GMT between Harrow-on-the-Hill and Finchley Road after an empty train derailed.
Transport for London (TfL) said "driver error" led to the derailment in the sidings near Wembley Park, which affected southbound services.
Services have now returned to normal.
The line from Amersham to Aldgate carries more than 185,000 people a day.
TfL said the derailed train was not on the main line but on one of the tracks coming out of the depot no passengers were "involved or endangered".
A TfL spokesman said: "At 5.50 this morning the Metropolitan line was suspended from Harrow to Finchley Road Southbound for about 25 minutes due to a derailment of an empty train in some sidings at Wembley.
"The incident was caused by driver error, and our safety systems worked correctly in preventing the train from leaving the sidings."