Tube power supply workers to be balloted over pay row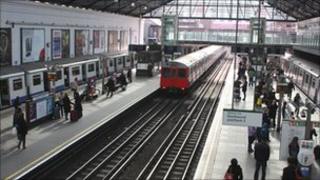 Tube workers who monitor the supply of electricity across the network will be balloted in a pay row, the Rail, Maritime and Transport Union has said.
The union said staff at the power control room had unanimously rejected pay grading proposals necessitating the ballot for industrial action.
RMT leader Bob Crow said the management failed to offer a "serious package".
Transport for London (TfL) said staff would get a "new skills framework" leading to "pay uplifts" for staff.
'Rock solid mandate'
RMT general secretary Bob Crow said: "We have tried to negotiate a solution to our members' concerns over power room grade progression but the company have failed to come up with a serious package that meets past promises they have given us on pay parity and additional benefits at the top of the pay band.
"Our members rejected the latest proposals by 100%. We have no doubt they will deliver a rock solid mandate."
A TfL spokesman said: "London Underground has been working with all unions on developing new ways for power control and track access control staff to progress in their careers.
"LU's proposals would see most staff given pay uplifts and would be based on the introduction of a new skills framework to give staff a clear guide on the performance required to progress."
TfL urged the union to continue "constructive talks".