Funds plea for new 10 bells for St Dunstan-in-the-West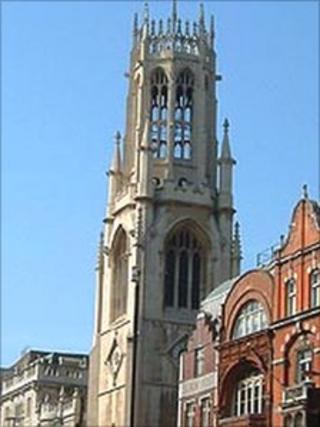 A Fleet Street church which has been silent for 42 years could have one of the loudest peals in the City of London if funds are raised to cast 10 bells.
Campaigners are aiming to raise £200,000 to install new bells in the tower of St Dunstan-in-the-West church and revive the art of bell-ringing.
The original bells were recast when the church was rebuilt after the Great Fire, but they were taken down in 1969.
Campaigners hope the new bells will ring on the Queen's Diamond Jubilee.
St Dunstan-in-the-West Bells Fund's appeal is part of a wider appeal to renovate the church, which is regularly used for worship.
The church, which stands at the entrance to the City of London, was damaged in the fire of 1666. The bells survived but were recast in 1832 when the building was rebuilt.
'Bell-ringing training'
The eight bells were rung for the last time in 1881, after which the bells and the belfry fell into disrepair.
The bells, which were removed in 1969 after concerns about the safety, were subsequently sold as scrap.
The Whitechapel Foundry, which cast the church's original bells and Big Ben at the Houses of Parliament, will make the new bells.
Dickon Love, the fund's trustee secretary, said campaigners wanted the church to become a "training ground for bell-ringing" once again.
The appeal, supported by the Guild Church, has already raised half the money required.
Campaigners hope the new bells will be installed by the Queen's Diamond Jubilee and will ring during the royal procession to the City in June 2012.