Thousands take part in 10km Newham London Run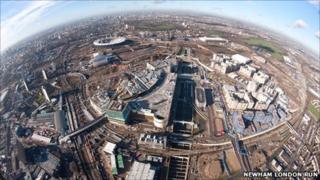 An Olympic medallist and celebrities were among thousands of people who took part in a 10km race in east London.
Organisers of Newham London Run said 4,000 participants ran past the Olympic Stadium, the Athletes' Village, Stratford High Street and Greenway.
Ireland's silver medallist at the Sydney Olympics, Sonia O'Sullivan and TV celebrities - Ray MacAllan and John Michie - were among the contenders.
Young people, aged 11 to 17, also took part in a separate race for juniors.
This was the second year for the council-organised race.
Paul Martelletti won the race with a time of 31min 22sec while Vicky Gill was the winning female runner with a time of 36min 30sec.
Ms O'Sullivan came second, posting a time of 39min 3sec.
Newham Mayor Sir Robin Wales said: "The Olympics is all about inspiring people.
"These activities will be ramping up as we enter the final two years before the Games and we'll encourage our residents to be involved."