G20 death: Tomlinson inquest gets under way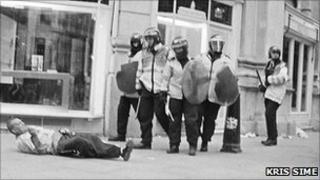 An inquest into the death of newspaper seller Ian Tomlinson has got under way, almost two years to the day since he died at the G20 protests in London.
The 47-year-old died after collapsing in the street on 1 April 2009. Video footage later emerged showing him being pushed to the ground by a policeman.
But post-mortem examinations disagreed over the cause of death.
Judge Peter Thornton QC will hear evidence in central London and the jury inquest is due to take up to six weeks.
Monday was taken up with jury selection and legal argument, and Tuesday's proceedings were adjourned after a member of the jury was discharged.
'Blunt force trauma'
The first post-mortem examination, conducted by Home Office pathologist Dr Freddy Patel, found Mr Tomlinson had died of natural causes linked to coronary artery disease.
But his findings were re-examined after video footage emerged of a Metropolitan Police officer, Pc Simon Harwood, apparently striking Mr Tomlinson with his baton and pushing him to the ground.
Mr Tomlinson had been on his way home from work and was not involved in the demonstrations in the City of London.
Further examinations were carried out separately by two pathologists. The second was instructed by Mr Tomlinson's family and the third by the police.
They both concluded that Mr Tomlinson had died of internal bleeding as a result of blunt force trauma, in combination with cirrhosis of the liver.
The Crown Prosecution Service later decided charges could not be brought against Pc Harwood because of the experts' disagreement over the cause of death.
Pc Harwood will face a charge of gross misconduct at a disciplinary hearing that could see him dismissed by Scotland Yard, but this will not take place until the inquest has ended.
Mr Tomlinson's family has accused the authorities of a cover-up and incompetence over the lack of charges against Pc Harwood.