Boris Johnson announces £50m fund for outer London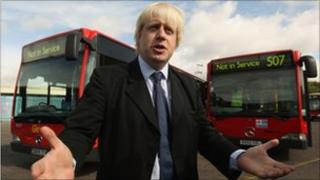 A £50m fund has been announced by Mayor of London Boris Johnson to boost regeneration in outer London.
Mr Johnson claimed he had battled hard for the money, which was left over when the government wound up the London Development Agency.
It will be used to establish business districts and stimulate growth.
But London's Labour Party said Mr Johnson had neglected outer London, claiming the announcement was politically motivated.
Revealing the new fund on a visit to Bromley, south London, Mr Johnson said: "This fund is a vital shot in the arm for our town centres and just the help needed to get new projects off the ground that wouldn't otherwise happen.
"I am delighted that after months of hard negotiations we have secured a significant pot of money to help projects really motor and we now have the means to nurture developments, increase work and leisure opportunities and make futures bright.
"It is vital we address the historic neglect of the outer boroughs that preceded this mayoralty and this is one of the ways we can start delivering growth."
Boroughs that qualify will be able to apply for a slice of the fund to pay for regeneration schemes.
But Mr Johnson rival for the 2012 mayoral election, Ken Livingstone, retorted: "It has taken three years, but finally the outer London boroughs are getting investment.
"The first thing he did [after coming to power] was cancel all the transport improvements planned for outer London."
During the last mayoral campaign residents of outer London boroughs backed Mr Johnson by a big margin.
During his reign Mr Livingstone was also accused of neglecting the outer ring in favour of inner London communities.