West Middlesex Hospital cuts 261 jobs including doctors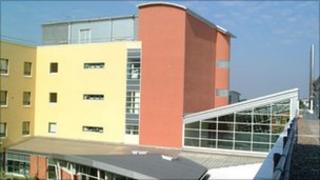 West Middlesex Hospital has revealed plans to cut 261 jobs, including doctors and nurses, to save £22m.
The Isleworth hospital in west London needs to deliver £22m savings by 2015, with £11.9m savings in the first year.
The hospital will lose 100 nursing staff and 2.7 doctors' posts from a total 1,921 jobs. It will cut 30 beds and reduce hours in a surgical ward.
Campaign group London Health Emergency said the cuts were "false economy" and patient care would suffer.
West Middlesex University Hospital NHS Trust said it aimed to reduce its "historic deficit of £22m" but the focus was on reducing administrative posts.
The hospital has already cut 45 beds in the past 18 months and plans to lose another 30 by this summer.
The trust said it was reducing beds because "the time people stay in hospital is reducing" due to better patient care.
It will also reduce the hours of one of its three surgical wards, which will now be open for five days instead of seven.
A statement from the hospital said: "Our plans are predicated on prioritising clinical front line services over non-clinical support.
"The aim of the turnaround plan is to reduce this (1,921 jobs) by 261 posts over the next two years mainly through natural wastage and reducing reliance on temporary staff."
'False economy'
The hospital currently uses 125 agency staff to cover vacant nursing and healthcare assistant posts and it plans to lose 100 of these posts, "therefore effectively reduces this expenditure to a minimal amount".
"The savings in medical staff costs will be made from a reduction in the number of agency staff we use. These are being replaced by permanent staff, which improves the quality of service we are able to provide," the hospital said.
Figures in the hospital's plan suggests 62 posts will be lost from its medical division, 38 from the surgical division and seven from its women and children division.
John Lister from London Health Emergency said: "The big question is if they are going to lose administrative staff who will do their jobs.
"If nurses are looking after paperwork, they are not looking after patients - that's false economy."
The hospital will begin consulting staff on the plans from 4 April.