Stockwell shooting: Man, 19, questioned over shot girl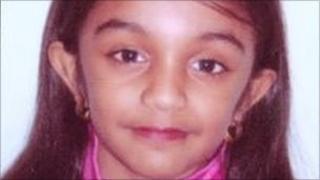 A man arrested on suspicion of the attempted murder of a five-year-old girl who was shot in a south London shop is being questioned by police.
Thusha Kamaleswaran was shot in the chest and bystander Roshan Selvakumar, 35, was hit in the face when a gunman opened fire in the Stockwell store.
Police said the intended targets were sheltering in the shop having been chased by three youths on bicycles.
The 19-year-old man was arrested in south London on Thursday afternoon.
Intended target
A £50,000 reward has been offered for information about the attack which happened at about 2115 BST on Tuesday.
On Thursday police revealed that the intended target of the gunman had contacted officers.
Police said the three attackers chased two youths into Stockwell Food and Wine before one of them fired shots into the shop front.
The victims, who are both Sri Lankan, are unrelated. The girl is in a serious but stable condition and the man is stable.
Thusha's 12-year-old brother, three-year-old sister and mother were also in the shop at the time but escaped unharmed.
Police have urged anyone who saw the three youths cycling in Stockwell between 2000 and 2200 BST on the night of the attack to contact them.