Environment Agency crack down on unregistered boats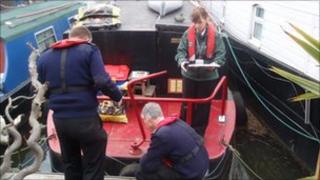 Owners of unregistered boats on the Thames are being warned that they could face a fine of £1,000 or have their boat removed.
A new law came into force on 1 January, 2011 that all boats on Environment Agency waterways must be registered.
Owners were given until 1 April by the Environment Agency to decide to register their boats or remove them from the waterways.
Boats must be registered even if they are not in active use.
A joint campaign, Operation Brook, has been launched by the Environment Agency and the Metropolitan Police Marine Policing Unit to enforce the new law.
High visibility patrols will sweep along the River Thames boarding vessels, checking documentation and ensuring registration plates are properly displayed.
Matt Carter, an Environment Agency Waterways Manager, said: "Boat owners have been given plenty of time to adapt to the change in law and we are now taking action to enforce it.
"These changes will make the river safer and it will be harder for people to avoid paying the charges they should."
The new legislation was brought in under the Environment Agency (Inland Waterways) Order 2010.
The cost of the annual registration is dependent upon the size of each boat.