Olympic Park explosives probe: Third person bailed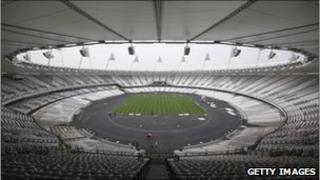 A third person arrested as part of an investigation into explosives linked to the London Olympic Park site has been released on bail.
The 61-year-old man, arrested at the Olympic Park on Friday on suspicion of supplying an explosive substance, has been bailed until later in the month.
A man and a woman arrested earlier over possession of an explosive substance had previously also been bailed.
The woman was a 40-year-old security guard detained near the 2012 stadium.
She was arrested by officers from the Metropolitan Police's Olympic Site Support Unit on Tuesday in a car park off Pudding Mill Lane close to the Olympic Park in Stratford, east London.
A 43-year-old man was arrested at his home in Wales on Wednesday.
The suspects have been arrested and the investigation is being carried out by Newham CID.
Scotland Yard has said the incident is not thought to be terrorism-related and previously said the Olympic site's safety had not been at risk.
Earlier this week building work was completed at the £486m Olympic Stadium, which will be the main venue for the games in the summer of 2012.