Stockwell shooting: Mother of victim 'empty inside'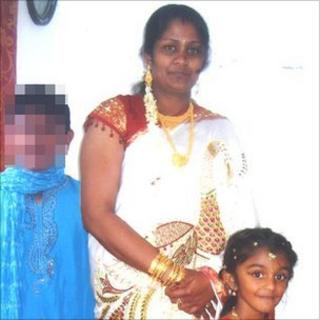 The mother of a five-year-old girl who was shot in the chest in a south London shop has said she feels "empty inside".
Thusha Kamaleswaran, who was wounded along with another bystander in Stockwell on 29 March, remains in a serious but stable condition.
Thusha's mother Sharmila said she could not eat or sleep properly until her daughter opened her eyes.
Anthony McCalla, 19, has been remanded in custody charged with attempting to murder Thusha and Roshan Selvakumar.
Mr Selvakumar, 35, was shot in the face. Like Thusha he is Sri Lankan although the two are not related.
They were wounded as two youths cowered in the store after being chased by three other youths on bicycles.
'Sweet child'
Mrs Kamaleswaran, who was in the shop at the time of the shootings, said: "This incident has caused much shock for me and my family.
"As any mother, I have deep love for all my children and what has happened to my daughter Thusha has left me feeling empty inside.
"My daughter Thusha is such a sweet, quiet and helpful child, always smiling and laughing. I cannot wait to hear her voice again and hold her.
"I ask for any person who knows about those responsible for this to come forward and speak to the police. I do not wish this to happen to another family."
She also thanked the hospital staff involved in the care of Thusha and the media for highlighting the story, but asked that the privacy of her family be respected.
Mrs Kamaleswaran's 12-year-old son and three-year-old daughter were also with her when Thusha was shot. None of the rest of the family was injured.
On Saturday, Mr McCalla was remanded by Camberwell magistrates to appear at the Old Bailey on 10 June.