Cuts protest camp set up in London's Trafalgar Square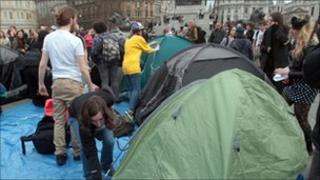 Protesters set up tents in London's Trafalgar Square to demonstrate against spending cuts made by the coalition government.
About 30 people were involved in the protest, which began by the Olympic clock at 1830 BST on Saturday and was expected to last 24 hours.
Ministers say the cuts are necessary to get the public finances in order.
Organisers said the protest would be "completely peaceful".
Police attended the protests and by Sunday afternoon no arrests had been made.
Labour MP John McDonnell addressed protesters saying they were defending "the right to peaceful protest without fear of molestation by the state".
One of the demonstrators said: "We need to show the government we are going to keep protesting to let people know we are angry about the cuts."
More than 250,000 people attended a march and rally in central London organised by the TUC against public spending cuts on 26 March.
The protest was largely peaceful but police have charged 149 people after a shop was occupied and violence broke out during and after the march.