London mayor announces discounts on low-emission vans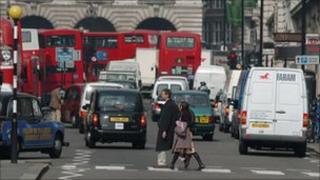 London Mayor Boris Johnson has announced discounts to van and minibus drivers who buy new, cleaner vehicles.
The package of deals from six vehicle manufacturers is being offered to 72,000 drivers of vans and buses who use the capital's Low Emission Zone.
Larger vans and minibuses will be required to meet Low Emission Zone (Lez) standards from January 2012.
Labour and the Greens both made criticisms of Conservative Mayor Mr Johnson's environmental policies.
Labour's London Assembly environment spokesman Murad Qureshi said: "While welcome, this is all too little too late.
"We're now years behind where we should be because the Mayor chose to put London's progress on this into reverse almost as soon as he was elected."
London Assembly Green Party member Darren Johnson said: "By cancelling action against polluting vans in 2010, the Mayor of London stopped the one big measure which might have delivered cleaner air across London by now."
'Tackle emissions'
The scheme currently requires owners of large lorries, buses and coaches to meet emissions standards.
But the extension will see vans and minibuses meeting the same standards or face a £500-a-day fine.
"Now is the time to help us tackle dangerous emissions to help those who most deserve our protection," Mr Johnson said.
Vehicle manufacturers Ashwoods, Citroën, Ford, Mercedes-Benz, Peugeot and Volkswagen will offer various discounts on new vehicles.
Former London mayor Ken Livingstone introduced the Lez in February 2008.
Vans and minibuses were due to be included in the zone from October 2010 but last September the deadline was extended until January 2012.
Unlike London's congestion charge zone, which is lifted in the evenings and at weekends, the Lez is in force 24 hours a day, every day. It also covers a larger area of 610 sq miles (1,580 sq km).