John Sweeney victims' families call for 'life in jail'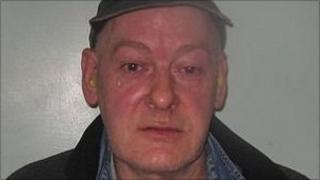 The families of two women who were killed, cut-up and dumped in canals in the Netherlands and London have called for the murderer to be locked up for life.
John Sweeney, 54, was convicted of murdering Paula Fields, 31, and Melissa Halstead, 33.
The body of Ms Halstead, 33, was found in a Rotterdam canal in 1990 while Ms Fields' body was found in Regent's Canal in 2001.
Officers said they were now looking into the possibility that the killer, who planted clues to his crimes in gruesome artworks and poems, could have killed more women. They are trying to trace three women.
Statement from Melissa Halstead's family
"Melissa Halstead was the youngest of five children, she grew up especially close to her brother Jack W Jnr and her sister Chance.
"She was a very intelligent and attractive young woman who set off from her home, in the USA to seek her fortune, first as a successful model and then as a photographer.
"Wherever she was in the world, she always made sure she contacted her mother on her mother's birthday.
"She went missing in 1990 and this was the start of the agony that her family were to face. Not knowing where she was or what had happened to her caused enormous anguish.
"When her remains were finally identified and the realisation of what had happened to Melissa set in, the family were destroyed, never to be the same again.
"They will always remember Melissa for her striking beauty, unpretentious manner and her wonderful personality.
"Jack has lost a loving sister who was his best friend; Chance has lost her younger sister who she always wanted to protect.
"No family member close to her, will ever feel complete without her. They all carry the pain of her loss every day and hope that one day this will subside.
"The family's hope for the future is that the person responsible for Melissa's murder will never be allowed free to carry out such terrible crimes again."
Statement from Paula Fields' family
"In 1990 Paula came to London for a while to stay with family and then returned to Liverpool. During this time she was not taking any drugs.
"Paula came back to London in 1999 with her sons, a few months later during 2000, some family members noticed changes to Paula's lifestyle.
"Then in December 2000 Paula went missing.
"Paula had only been in London for 14 months. During that time she had become involved in taking drugs and prostitution.
"We and the rest of Paula's family want the public to know that this time in 1999 to 2000 was a very small part of her life that led to her demise.
"For 29 years Paula was a normal girl, a loving mother, daughter, sister and aunt.
"God has given us strength and courage to bear and to fight this awful blow.
"What it has meant to lose Paula, no one will ever know or understand.
"She has suffered this terrible thing and we know she is never coming back.
"We were never able to say goodbye.
"We hope to God that John Sweeney will never be released. For him to do to another person what he did to Paula.
"To put another family through the stress of a trial then to listen to what they have done to their loved one's body would be intolerable."