Stockwell shop shooting: 18-year-old man charged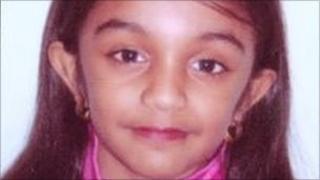 An 18-year-old man faces two charges of attempted murder after a shooting at a south London shop which left a five-year-old girl with a chest wound.
Thusha Kamaleswaran remains seriously ill. Local resident Roshan Selvakumar, 35, suffered a head wound and also remains seriously ill.
Kazeem Kolawoli, of Black Prince Road, Lambeth, south-east London, was charged with attempted murder of both victims.
A 19-year-old has already appeared in court on the same charges.
Anthony McCalla, of Oakdale Road, Streatham, south London, appeared in court on Saturday and was remanded until 10 June when he will appear at the Old Bailey.
Mr Kolawoli is due to appear before Camberwell Green Magistrates Court on Tuesday.
A 17-year-old was arrested on Sunday on suspicion of attempted murder and remains in police custody.
On Friday, a 14-year-old youth was arrested on suspicion of attempted murder but was subsequently bailed until later in April.
Thusha was hit in the chest and Mr Selvakumar, who is believed to live in a flat above the shop, suffered a head wound when a gunman fired into the Stockwell Food and Wine shop in Stockwell Road on 29 March.
Relatives are holding vigils at Thusha's hospital bedside. Thusha's mother, 12-year-old brother and three-year-old sister were with her in the shop during the shooting but were unhurt.