Man sought over 'gay-free' poster at Bow Church station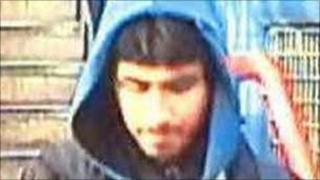 A CCTV image has been issued of a man being sought in connection with an inquiry into "gay-free zone" posters that appeared across east London.
The suspect was caught on camera at Bow Church station, where one of the flyers was put up on 12 February.
They have also appeared in Poplar, Brick Lane, Shoreditch, Whitechapel and Canary Wharf since then.
The posters read: "Arise and warn. Gay free zone. Verily Allah is severe in punishment."
Det Con Elaine Sexton of British Transport Police (BTP) said: "These stickers are offensive and we are keen to identify the man in the images as we believe he has information which may assist the investigation."
Supt Mark Wolski, from Tower Hamlets Police, said: "These stickers are divisive in nature and so we would encourage anyone with information to contact our colleagues at BTP to help identify the perpetrators."
The postcard-sized flyers were found glued on several lamp-posts and railings.