Extra protection 'could not save' shot London soldier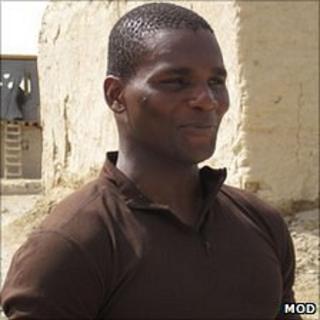 Additional protection would not have saved a west London soldier who died after being shot in the face in Afghanistan, an inquest has ruled.
L/Sgt Dale McCallum, of 1st Battalion Scots Guards, was posted in a small fort in Lashkar Gah, Helmand province, when a bullet hit his left cheek.
The bullet exited at the back of his neck, leaving the 31-year-old with fatal spinal cord injuries last August.
The soldier, of Greenford, was wearing the most up-to-date armour at the time.
North London Coroner Andrew Walker recorded a verdict of unlawful killing.
L/Sgt McCallum's parents, sisters and fiancee were present at the inquest.
'Extraordinary courage'
The father-of-one was shot from a distance of 300m when the checkpoint, known as a sangar, came under fire.
The inquest heard no gear was available which could provide more protection for the face and neck without obstructing vision or mobility.
Additional protective measures had been ordered for the checkpoint to address concerns about its "vulnerability", but had not been installed at the time owing to a shortage.
Lt Charles Pearson, who was in the control room, said the soldier - who was a "great asset" as a sniper - made the decision to go into the sangar himself.
Pathologist Russell Delaney said "under no circumstances would he have survived this injury".
Giving his verdict, Mr Walker said: "The court has heard that measures were requested to provide additional protection for this one sangar, but those who have given evidence today here said even if those measures had been present, they would not have saved L/Sgt Dale McCallum's life."
He also praised the soldier's "extraordinary courage, bravery, dedication and duty".
Lurline Watson, L/Sgt McCallum's mother, said: "Dale was a man who was really loved, and we are really proud of. He will never be forgotten."