Met commissioner returns to work early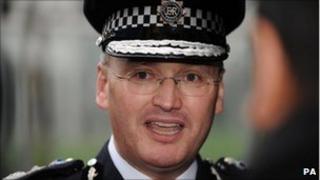 The commissioner of the Metropolitan Police (Met) has returned to work early after illness.
Sir Paul Stephenson was expected back in May after suffering complications following two operations to remove a pre-cancerous growth on his leg.
But the Met has confirmed that Sir Paul, who was appointed commissioner in January 2009, returned to his official duties on Monday.
Deputy Commissioner Tim Godwin led the force in his absence.
Sir Paul began his career with Lancashire Constabulary in 1975, and was deputy commissioner to Sir Ian Blair prior to being appointed to the top job.
His return means he will now be in post for the day of the royal wedding on 29 April.