Oxford Street traffic-free days extended for shopping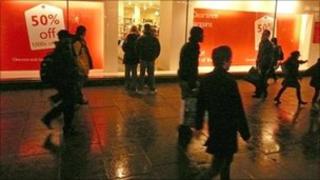 The annual traffic-free shopping day in London's Oxford Street will be extended to a full weekend this year.
In addition to the two-day closure, on 10 and 11 December, vehicles will also be banned on 26 December.
It is the first time the scheme, which has run for seven years, has been used to promote the Boxing Day sales.
The New West End Company, which represents local businesses, said it hoped the move would boost sales after takings fell by 4.1% last year.
The firm also fears shoppers are being deterred from going to the West End because of the disruption caused by building work on the Crossrail train line.
'Challenging period'
Construction work has begun around Tottenham Court Road and Bond Street Tube stations, closing streets such as Charing Cross Road.
In addition, Oxford Circus underground station has fewer escalators while upgrades are carried out there.
Shops were facing a "challenging period", said Dame Judith Mayhew Jonas, the chairman of the New West End Company.
"We need to ensure shoppers know how to get here, regardless of the work," she added.
"We know that the long-term gain to be seen from this huge investment in the West End will be invaluable."
A website has been launched to give travel advice to people wanting to visit Oxford Street, as well as tips about local "hidden gems" and other attractions which are less well-known.