Bouncers held over Briton's nightclub death in Germany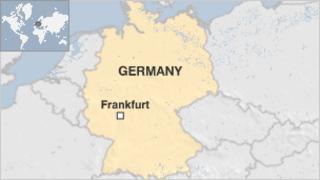 Three bouncers have been arrested after a British man was beaten to death at a German nightclub.
Lee Heath, 31, from Hackney, east London, suffered head and internal injuries after the assault at the u60311 club in Frankfurt on Monday.
He died two days later and the doormen are now being held on suspicion of manslaughter.
Officers are investigating whether one of the suspects, a part-time boxer, used hardened "tactical gloves".
Not aggressive
A Frankfurt police spokeswoman said officers had interviewed about 10 witnesses, adding: "They all said this man was not aggressive. We do not know the reason why the incident started.
"The witnesses said he was walking to get a drink and the doormen grabbed him from behind. We don't know why.
"His girlfriend was in the bathroom and came back when it had all happened so she also doesn't know why it happened."
She added: "One of the men, the 35-year-old, from Greece, is a boxer. He was wearing tactical gloves filled with some hard material, a kind of sand."
The other two suspects are aged 29 and 32.
Mr Heath moved to Germany in October 2009 to be with his German girlfriend, and worked as a decorator and handyman.