Transport bosses hail royal wedding day 'a success'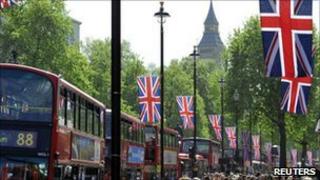 Public transport has been hailed a success as hundreds of thousands of extra passengers travelled around London for the royal wedding.
Transport for London's chief operating officer, Howard Collins, said it had been a "fantastic" day.
He said Tube trains did not stop at Westminster for a short period, on the advice of the police, because of large crowds outside.
The Metropolitan Police estimate up to a million people lined the streets.
Mr Collins said: "We worked very successfully with the police and front line staff have done a great job.
"The crowds were fantastic and today has been a real success for London. This is a world-class city."
Up to 400,000 people were expected to travel by train into central London on Friday, according to the Association of Train Operating Companies (ATOC).
Train companies expected a 15% rise in passengers compared to a normal bank holiday.
An ATOC spokesman said: "Everything seems to have gone very smoothly and there have been no reports of any significant disruption. It has been a good day."
Network Rail said engineering work had been moved "wherever possible" so travel in and out of London would not be affected.