Regent's Canal: Fallen tree closes section of walkway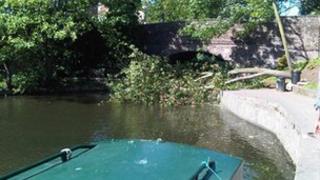 A small section of Regent's Canal in London is closed after a tree fell into the water in front of a bridge.
The tree, which fell into the canal shortly after 1000 BST on Monday, is blocking the canal and towpath by the Danbury Street entrance.
A British Waterways spokesperson said a maintenance team from the company was assessing the situation.
Regent's Canal runs from Little Venice, near Paddington, in the west to Limehouse in the east.
It is the busiest canal in London.
The spokesperson said it was likely that high winds were to blame for the tree falling into the canal.
She said the tree would be removed after 1400 BST so that boats could navigate along the canal.
She added that the towpath near to where the tree fell had been closed for safety measures and would not reopen until Tuesday .
"We are advising visitors to avoid the Danbury Street entrance to the canal, but they can still use and enjoy the rest of the canal and the towpath, which is a very popular area, with lots of people and cyclists," said the spokesperson.
During peak times about 400 cyclists and an equal number of pedestrians use the route every hour.