Model Erin O'Connor's ex-PA sentenced for fraud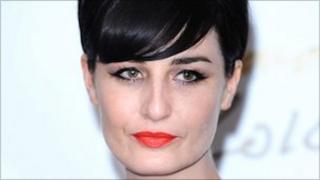 A personal assistant to model Erin O'Connor who stole money from her employer to pay for shopping and holidays has been spared jail.
Michelle Knox-Brown, 46, admitted two counts of fraud, including stealing £10,251, over three years.
Knox-Brown, of east London, who was paid £45,000 a year for working three-and-a-half-days-a-week, was ordered to do 200 hours' of unpaid community work.
Kingston Crown Court heard the fraud left the model "doubting herself".
Knox-Brown was given a 40-week suspended sentence and ordered not to contact her former employer.
'Sheer greed'
Judge Andrew Campbell told the former PA, of Glyn Road, Clapton: "You were in a position of trust, indeed a relatively high position of trust.
"The goods and the money you obtained were not obtained because you were short of money, but out of sheer greed.
"You have let Miss O'Connor down quite badly, and as she explains, what you have done has affected not only her work but the trust she puts in other people."
Knox-Brown, who was hired in 2007, had access to O'Connor's personal information and bank accounts, including the Pin number to the 33-year-old Marks & Spencer model's bank card.
She made hundreds of transactions, even while on holidays to Morocco, India, Spain and America, the court heard.
She ran up a £1,607 taxi-bill and hundreds of pounds in parking fines, even though the model did not drive.
Model turned 'detective'
She also went on a spending spree in London's West End and withdrew £1,500 cash over a two-week period.
Knox-Brown used her employer's money to pay for a friend's hen night party in Brighton and VIP tickets and £400 spending money to the Isle of Wight music event, Bestival.
Knox-Brown was caught in February 2010 when Miss O'Connor became suspicious of the taxi bills.
"Miss O'Connor and her partner spent days and days and days trying to piece together the fraud that had been perpetrated on her," prosecutor Jonathan Polnay said.
"Effectively Miss O'Connor turned detective."
Julian Winship, defending, said his client was "ashamed" and "properly remorseful".
Knox-Brown was also ordered to pay back £2,000 to the model within a month and return another £6,000 over two years.